Presenter
Mike Granoff
TALK:
Inspiration to do big things: Ending oil dependency and reinventing the electric car.
Michael Granoff
has been Head of Oil Independence Policies for Better Place since its 2007 founding. In that capacity Mr. Granoff helps stakeholders of all types to calibrate policies consistent with the Better Place approach to ending the corrosive effect of oil dependence on economy, environment and security. Mr. Granoff works with governments on every level, industry and current and future Better Place partners.
Mr. Granoff is founder of Maniv Energy Capital, a New York-based investment group which became the first investor in Better Place. Maniv Energy has several other interests in the alternative energy and clean technology space, and was instrumental in the founding of Israel Cleantech Ventures, the first venture fund in Israel with an exclusive focus on the cleantech space.
In 2004, Mr. Granoff became a founding board member of Securing America's Future Energy, a Washington, DC-based group which works with corporate and retired military leaders to advocate for policies which contribute to the energy security of the United States. Previous to Maniv Energy, Mr. Granoff was founder of Maniv Bioventures, a $20 million fund which invested in 10 early-stage life science companies. Politically active for two decades, Mr. Granoff served in two presidential campaigns and several political organizations, and has served on the boards of a half-dozen non-profit institutions.
Mr. Granoff holds a BA from Tufts University, an MBA from Kellogg School of Management and a JD from Northwestern School of Law. He is an avid marathon runner, and together with his wife has four young children.
NYC, May 23-24, 2013 : 12gurus:Charity brings together top innovators and executives from all aspects of nonprofit and philanthropy work to share ideas on change. Talks are short, engaging and entertaining. The topics are game-changing BIG ideas.
Day 1 : Talks
9:00am-11:30am
MORNING PRESENTERS
11:30am-1pm
LUNCH, NETWORKING + INTERACTIVE DEMOS
1:00 pm-5:00pm
AFTERNOON PRESENTERS
Day 2 : Workshops, Meetups, Networking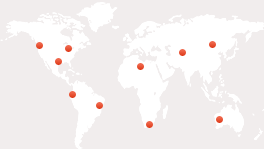 500
Attendees from across the globe