Presenter
Scott Belsky
TALK:
Making Ideas Happen
Scott Belsky has devoted his professional life to help organize the creative world to make ideas happen. Scott is the founder of Behance, a company that develops products and services for the creative industries. Behance oversees the Behance Network (Behance.net), the world's leading online platform for creative professionals; The 99% (The99percent.com), Behance's think tank and annual conference devoted to execution in the creative world, and Action Method (ActionMethod.com), a popular online/mobile productivity application and line of organizational paper products. Scott is also the author of the national bestselling book Making Ideas Happen (Portfolio, Penguin Books).
Through his work at Behance, Scott has become an advocate for technology and community initiatives that empower the careers of creative professionals. He has consulted for leading media and Fortune 500 companies, including GE and Hewlett-Packard, and has traveled as far as the Kaospilots School in Aarhus, Denmark to talk about his findings. He has appeared in the Wall Street Journal and BusinessWeek, and has shared Behance's research in segments on ABC News, MSNBC, and with the United States State Department. Scott was also included in Fast Company Magazine's list of "100 Most Creative People in Business." Scott has guest lectured at Cornell University, Harvard University, VCU Brand Center, and UC Berkeley among other institutions, and serves as a small business expert on American Express' Open Forum website.
Prior to founding Behance, Scott helped grow the Pine Street Leadership Development Initiative at Goldman, Sachs & Co. Scott was especially focused on organizational improvement and strengthening relationships with Goldman Sachs' key clients. Scott chairs the Board of Reboot, serves on Advisory Board of Cornell University's Entrepreneurship Program, is a board member for the Art Director's Club, and is a member of the International Academy of Digital Arts and Sciences. He attended Cornell University as an undergraduate and received his MBA from Harvard Business School.
NYC, May 23-24, 2013 : 12gurus:Charity brings together top innovators and executives from all aspects of nonprofit and philanthropy work to share ideas on change. Talks are short, engaging and entertaining. The topics are game-changing BIG ideas.
Day 1 : Talks
9:00am-11:30am
MORNING PRESENTERS
11:30am-1pm
LUNCH, NETWORKING + INTERACTIVE DEMOS
1:00 pm-5:00pm
AFTERNOON PRESENTERS
Day 2 : Workshops, Meetups, Networking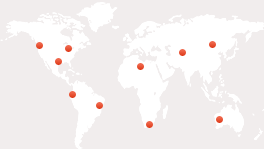 500
Attendees from across the globe