Presenter
Dave Levin
Dave Levin is a native of New York City, where in 1995 he co-founded and currently serves as superintendent of KIPP NYC, the family of all KIPP programming in New York City.
After graduating from Yale University in 1992, Dave joined Teach For America and taught fifth grade in Houston, Texas. In 1994, he co-founded the Knowledge Is Power Program (KIPP) with Mike Feinberg and won the Jefferson Award for outstanding community service for the city of Houston. In the same year, he earned Teacher of the Year honors from his school in Houston and an outstanding teaching award from Teach For America. Passionate about innovative teaching, Dave co-authored KIPP Math, a comprehensive math curriculum for students in grades 5-8 that culminates in students completing a two-year high school Algebra I course by the end of 8th grade. Dave also has a Master's Degree of Education from National Louis University.
In the spring of 2000, Dave and Mike were approached by Doris and Don Fisher, founders of Gap Inc., to replicate KIPP's success nationwide. Together they co-founded the KIPP Foundation which supports the opening, growth, and evaluation of KIPP schools around the country. KIPP has grown from 2 schools serving 400 kids in Houston and New York City to 109 schools serving over 32,000 kids in 20 states and the District of Columbia. 88% of the KIPP alumni have matriculated to four year colleges and universities, and KIPP has quadrupled the college graduation rate for kids from underserved communities.
In 2007, Dave, along with Norman Atkins from Uncommon Schools and Dacia Toll from Achievement First, co-founded UKA (Uncommon Knowledge and Achievement) and launched Teacher U in partnership with Hunter College. Teacher U is a Master's Program designed to prepare teachers with the best of both theory and practice so that their students can develop the transformative academic and character skills needed to succeed in college and life.
In the spring of 1999, KIPP was named one of the twenty-five most effective schools in the nation in low-income communities. Of these twenty-five schools, Dave was selected as one of the seven most effective principals. He is the recipient of the Robin Hood Foundation's John F. Kennedy Jr. Hero Award in Education and an Ashoka Fellowship awarded to leading social entrepreneurs with innovative solutions and the potential to change patterns across society. Dave also served on the New York State Commission for Education Reform. In 2010, Mike and Dave spoke at TED on the topic of how to reform America's public education system. Most recently, Dave and Mike were awarded the Thomas Fordham Foundation Prize for Valor, the National Jefferson Award for Distinguished Public Service by a Private Citizen, the Charles Bronfman Prize, an honorary doctorate degree from Yale University, and the Presidential Citizen's Medal, our nation's second highest presidential award for a private citizen.
Dave speaks regularly to groups from across the country on issues relating to leadership, teaching, coaching, transforming education, character development, motivation, and parenting.
Dave currently serves as the superintendent of KIPP NYC and plays an active role in the leadership of the KIPP Foundation and Teacher U/Relay Graduate School of Education. Dave lives in New York City with his wife Nikki, their sons Max and Zach, and their dog Athena.
NYC, May 23-24, 2013 : 12gurus:Charity brings together top innovators and executives from all aspects of nonprofit and philanthropy work to share ideas on change. Talks are short, engaging and entertaining. The topics are game-changing BIG ideas.
Day 1 : Talks
9:00am-11:30am
MORNING PRESENTERS
11:30am-1pm
LUNCH, NETWORKING + INTERACTIVE DEMOS
1:00 pm-5:00pm
AFTERNOON PRESENTERS
Day 2 : Workshops, Meetups, Networking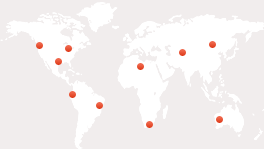 500
Attendees from across the globe