Presenter
Charles Best
TALK:
Secrets to a succesful peer-to-peer platform: Enabling a million causes.
Charles Best leads DonorsChoose.org, a website where every public school teacher can be a change-maker, and any citizen can be a philanthropist. At DonorsChoose.org, public school teachers post classroom project requests, and donors can pick the projects they want to support. Every donor then gets photographs and thank-you letters from the classroom he or she chose to help.
Recognition of DonorsChoose.org includes the Nonprofit Innovation Award given by Stanford Business School and Amazon.com, a Global Technology Laureate from the TECH Museum of Innovation and Microsoft, the Fast Company Social Capitalist Award, selection by Ashoka, and election by the TechCrunch community as the website "most likely to make the world a better place." National media such asOprah Winfrey and The New York Times have profiled DonorsChoose as "the future of philanthropy."
In 2009 and again in 2010, Fortune Magazine featured Charles in the "40 under 40" list of "business's hottest rising stars."
NYC, May 23-24, 2013 : 12gurus:Charity brings together top innovators and executives from all aspects of nonprofit and philanthropy work to share ideas on change. Talks are short, engaging and entertaining. The topics are game-changing BIG ideas.
Day 1 : Talks
9:00am-11:30am
MORNING PRESENTERS
11:30am-1pm
LUNCH, NETWORKING + INTERACTIVE DEMOS
1:00 pm-5:00pm
AFTERNOON PRESENTERS
Day 2 : Workshops, Meetups, Networking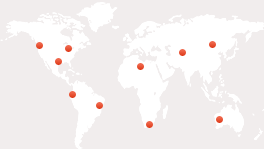 500
Attendees from across the globe