Presenter
Eric Saperston
TALK:
What do succesful people have in common?
Eric Saperston has been a featured guest on The Today Show, PBS Headline News and CNN, as well as interviewed and published in The New York Times, Washington Post, Wall Street Journal, Atlanta Journal Constitution, Spin Magazine, Fast Company Magazine and National Geographic.
Eric's first feature film "The Journey", was based on a trip he took around the country cold calling the nation's most successful CEOs, entertainment icons, authors, artists and global leaders, and taking them out for a cup of coffee and an inspired conversation. The film received a development deal from Walt Disney Studios and went on to win numerous film festival awards, and played in movie theaters around the country to sold out shows and standing ovations. Eric's second feature film project, "The Note", a story of forgiveness and second chances, recently sold to Warner Brothers.
Currently, Eric is shooting a television series and has a new book coming out this fall called: Jumpstart Your Journey: A Traveling Companion To Anyplace Worthwhile
NYC, May 23-24, 2013 : 12gurus:Charity brings together top innovators and executives from all aspects of nonprofit and philanthropy work to share ideas on change. Talks are short, engaging and entertaining. The topics are game-changing BIG ideas.
Day 1 : Talks
9:00am-11:30am
MORNING PRESENTERS
11:30am-1pm
LUNCH, NETWORKING + INTERACTIVE DEMOS
1:00 pm-5:00pm
AFTERNOON PRESENTERS
Day 2 : Workshops, Meetups, Networking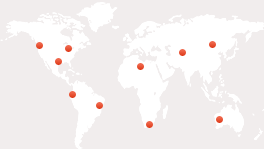 500
Attendees from across the globe