Presenter
Ankur Jain
TALK:
The Power of Global Youth
Ankur Jain is a philanthropist and entrepreneur, with a focus on leveraging innovation and entrepreneurship as a means to solve global problems.
Jain is the founder and chairman of the Kairos Society, an organization of young entrepreneurs working to create billion-dollar solutions to the world challenges. Jain is also the co-founder and CEO of Panjia Co. which helps early stage technology companies in foreign markets accelerate growth into the United States, China, and Middle East. Jain has said that he believes helping entrepreneurs work across national borders can serve as a means to "privatize diplomacy."
Over the years Jain has been recognized for a variety of achievements. In 2010, Jain was selected as one of 80 students (out of 1,800) to participate in the Singularity University Summer Program, an interdisciplinary program based at the NASA Ames campus in Silicon Valley. Singularity University brings together leaders in business, science, and technology to facilitate the development of technologies that address humanity's greatest challenges. He has been recognized as a Leader of the Future at the Ambrosetti Forum and as a Young Global Leader at the World Foresight Forum and the St. Petersberg International Economic Forum. In 2011, Inc. magazine named Ankur Jain the "Best Connected 21-Year-Old in the World" and awarded Jain "30 Under 30″. Jain graduated from the Wharton School of Business in May, 2011.
NYC, May 23-24, 2013 : 12gurus:Charity brings together top innovators and executives from all aspects of nonprofit and philanthropy work to share ideas on change. Talks are short, engaging and entertaining. The topics are game-changing BIG ideas.
Day 1 : Talks
9:00am-11:30am
MORNING PRESENTERS
11:30am-1pm
LUNCH, NETWORKING + INTERACTIVE DEMOS
1:00 pm-5:00pm
AFTERNOON PRESENTERS
Day 2 : Workshops, Meetups, Networking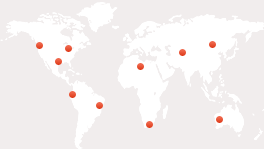 500
Attendees from across the globe